The small cloister dates from the first founding of La Chartreuse under Pope Innocent VI. The southern wing is referred to the "conversation wing" for on Sundays and holidays, the religious were allowed to break silence for a short time. They wore their hoods drawn over their lowered heads, for their eyes were not supposed to meet. The conversation wing was also where they gathered on the eve of feast days, to rehearse the liturgy. This cloister was the most luxurious part of the monastery.
The small cloister was a place for walking amidst greenery. For the Carthusian monks, it symbolized celestial Jerusalem.
Though the cloister was somewhat ornate, the style remained sober and characteristic of the taste in Avignon at the time of the Avignon papacy. At the base of the arches, the brackets are sculpted with expressive animals. Some were covered with a stucco coating which still remains in places. To the west, the cloister led to the refectory, the original Tinel under Pope Innocent VI.
The Chapter Hall may seem small. Remember though that it corresponds to the foundation of the monastery in 1356 for twelve monks. The chapter hall could not be enlarged later for it was surrounded by other buildings which limited its size. In the Carthusian order, unlike what one sees in Cistercian abbeys such as at Sénanque abbey where the chapter room is open to outside light and can be seen by all, the Carthusian chapter hall has only one door which is kept closed. This is the chapter room for the Fathers. There is also a chapter room for the Brothers in their building.
The chapter room is the place for confession, for hearing one's penance. It is also where the rule of the order was read aloud, chapter by chapter. It is where the Prior preached during high feasts. Here too is where novices entered the order. The chapter room was also where meetings took place to decide on subjects such as selling land, wine, etc. Here the community deliberated and made decisions.
This small sculpture, the base of a vaulted arch, raises many questions. It is thought that it shows the theme of the osculum infame, the shameful kiss, a witch's supposed ritual greeting upon allegiance to the devil which involved kissing a ram's posterior. Or is it a recommendation to silent, an injunction to be careful what you do with your mouth? It was often said that stone carvers could be anti-clerical …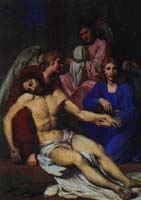 Christ with angels, oil on canvas by Reynaud Levieux, circa 1650 (Pierre de Luxembourg Museum, Villeneuve-lez-Avignon). This painting once hung in the chapter room.