By car
15 min from Avignon and the Palace of the Popes
30 min from the Pont du Gard
- A7, take exit "Avignon nord", follow Avignon Centre then Villeneuve lez Avignon by crossing the bridge "Pont Daladier" then take a right in the direction Villeneuve Centre. Continue approximately 1 km then at the roundabout go straight, around the Fort Saint-André to the traffic light. The car park for La Chartreuse (3) is on your left.
- A9, take exit "Remoulins" follow Avignon then Villeneuve lez Avignon.
Parking (see map)
1. There is a big car-park in front of the Tourism Office. At the roundabout, go straight and the car park is on your left. After parking your car, it takes 10 min on foot to reach La Chartreuse. Be careful – no parking Thursday and Saturday mornings due to the food market on Thursday and the flea market on Saturday.
2. Car-park in front of the old cemetery. At the roundabout take direction Villeneuve Centre and after the small square, take a left on the street "Rue du Camp de bataille". The BNP is on the corner of that street.
3. The north car-park by the La Chartreuse bus stop: at the roundabout, go straight, until the traffic light. Carpark on the left, at the bottom of the Fort Saint-André.
All these carparks are less than a 10-minute walk to La Chartreuse.
Recommended car-park: parking Chartreuse (3)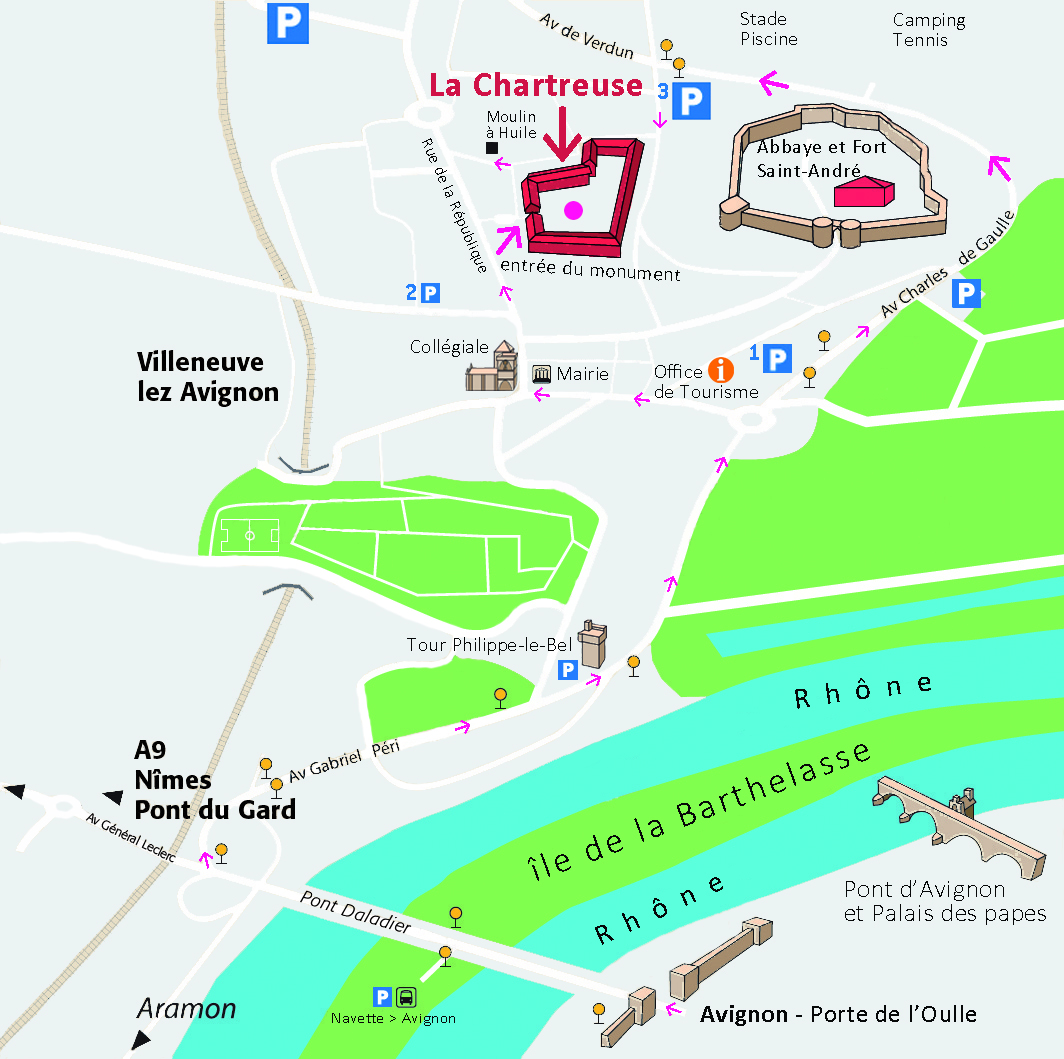 By bus
From the TGV train station: take the TER train into the Avignon Centre train station then walk to the Porte Limbert and take TCRA bus n°5 Limbert/Villeneuve-Cigalières. Get off the bus at the stop in front of the Office de Tourisme or Chartreuse on the Avenue de Verdun.
From Avignon: bus line TCRA n°5
+++ more info on tcra.fr or 0810 456 456
By taxi
Taxi Villeneuve 04 90 25 88 88
Taxi Villeneuve 06 84 00 27 47
On foot
35 min from the Porte de l'Oulle in Avignon to la Chartreuse