Pope Innocent VI had the church built for the community's liturgical celebrations. The church was first called Saint John the Baptist then Saint Mary. Its current condition is far from its origins in 1356-1362. The original church had only three bays and was thus much smaller. It sufficed for the twelve fathers and the brothers' choir. The extreme simplicity and austerity of the Carthusian order distinguished the church. This sober style was also reflected in southern Gothic architecture whereas the Palace of the Popes in Avignon was becoming increasingly sumptuous.
Tomb and effigy of Pope Innocent VI, pope in Avignon from 1352 to 1362. Innocent VI built the Carthusian monastery on land in Villeneuve (see the history of the building and of the Carthusian order). He wanted to be buried in the monastery, which was no simple undertaking. The Carthusian monks were buried directly in the ground, their grave mound solely marked by a wooden cross which, when it fell was the sign that the grave could be reused for another monk. Persons from outside the monastery could not be buried there, and the presence of the pope would introduce great riches and magnificence. Yet, one could not stand up to the leader of the Christian world. The order did not say a word, which was its way of expressing its disagreement, and the pope had a chapel built for his tomb.
The door to the monastery church was designed by François de Royers de la Valfenière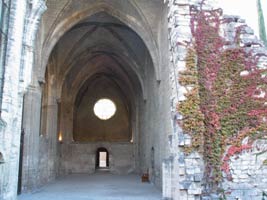 The tribune seen from the opening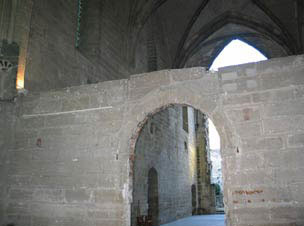 In front of the JUBÉ or tribune, the first bay was assigned to the lay brothers.
The gutted church has lost its sanctuary. The hole in the walls opens onto a view of Mount Andaon and Fort Saint-André, and dates from the 19th century when people moved into the monastery and lived and worked in it. During that time, the ornate tomb sheltering Pope Innocent VI (see below) was used to raise rabbits. It is said that the sanctuary collapsed under the weight of the loads farmers hung from the vaults, and raised and lowered time and again.
Impressive vaulted ceilings. One of the features of southern Gothic architecture is the size of the solid walls. Northern Gothic favored pillars, and windows were opened in the walls to let in light and hold stained glass. Here walls hold up the vaults and create enclosed, meditative space conducive to deep prayer.
---
THE UMR MAP (CNRS laboratory) digitized and made 3-D images of La Chartreuse, in particular the Church and the paintings which had been on the church walls during the era of the Carthusian Fathers. See here the first step of this work.